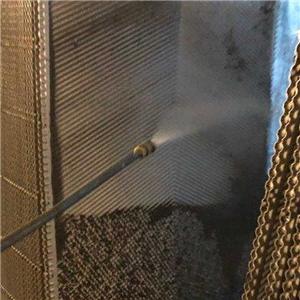 Acid Cleaning Plate Heat Exchanger
A plate heat exchanger uses metal plates to conduct heat between two liquids. The plate heat exchanger accomplishes this task without the two liquids ever touching. It can be used in many different ways. A good example is a car radiator. The heat exchanger in a radiator takes in a hot coolant and passes it through aluminum pipes where it emerges much cooler.
08-06-2020
Our company has been working hard in order to meet demands of our clients under this difficult times. We have taken all necesssary mesaruments in order to create a safe working environment for our production staff.

The plate heat exchanger is just a general designation, different plate heat exchanger manufacturers, production of plate heat exchanger structure is not the same, especially in the work under different working conditions of the heat exchanger structure is more difficult, but one thing is for certain, that is their working principle is very similar.

The structure of plate heat exchanger is shown in the figure.It consists of a long square of thin metal plates arranged in parallel, clamped and assembled on the top of the bracket.The edge of the two adjacent plates is lined with gaskets, and a sealed fluid channel is formed between the compressed back plates, and the size of the channel can be adjusted by the thickness of the gaskets.At each corner of the board there was a round hole, in which two of the holes communicated with the passage on the board and the other two holes were not communicated with each other.
Welded plate exchangers mainly for use in the chemical industry or for utility systems in large buildings. The most energy-intensive process heating application in a refinery is the crude preheat train. This is where raw crude is heated to separate components in the atmospheric distillation unit.

Plate heat transfer surfaces are the latest development in falling film technology. Various configurations of plates have been tried in the past. Among them have been dimpled plates and corrugated plates. The latest type of plates are pressed plate used in a falling film (PPFF). This new configuration has several advantages never before available to any seawater desalination process.

Common heat exchangers used in these process sections are often dirty and blocked. Therefore, the use of wide-channel heat exchangers in these process sections is not easy to be dirty and blocked, and the cleaning cycle is longer.

Think about how to install a plate heat exchanger to take full advantage of its performance?

This article is dedicated to identifying issues your plate heat exchanger (PHE) might be having, and setting you on the path to the right solution. Nearly all issues boil down to some form of plate fouling or gasket failure, but it's important to determine whether it's a one-time problem or an inherent flaw in your system (the PHE is specified incorrectly). The first step is to identify the symptoms of your underperforming heat exchanger.

The traditional way of providing domestic hot water was to utilise a boiler to heat the water via a coil in a storage tank (a calorifier) and to store it until it is required. It's a system that has worked satisfactorily for generations, but today — with more emphasis on energy efficiency, cost and health and safety — this system increasingly fails to meet expectations.